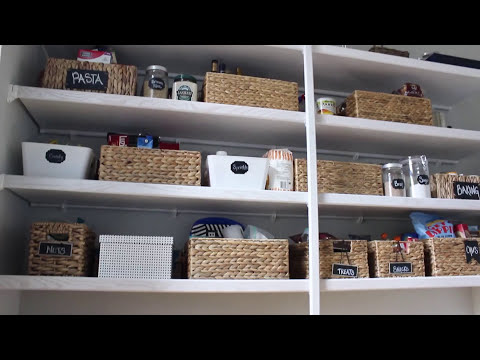 Creating a home for yourself is an amazing opportunity. One of the things we wanted to include in this home was tremendous amounts of storage. So we wanted spaces where we could be able to expand, not have to be perfect all the time and shut the door and say, "There it is!" (laughing) Nobody sees it! The pantry we created as sort of a pantry slash home office center. So that's where we store all of our children's artwork that comes home, all their school work, we keep our menu planning there, we keep all of our mail.
And then it's also our pantry. So it really is the hub of our kitchen.
I know that it is becoming a lot more popular these days, which is a fantastic thing. Most people have coat closets when you enter your front door. But for some reason, those don't get used as often because they have hangers and a rod.
So what we did is we created a coat closet out of a great space opportunity. If we were to have a large party, we wouldn't have to worry about coat storage. So for this area, we really wanted to create a space that had enough breath in it, that had enough room for us to drop our groceries.
Being an interior designer, I always have a lot of bags with me. So having a place where I can drop off all of those right when I exit the garage, not having to bring them to my office right away, is key. It was really about creating the structure, the bones of the house. This is really something that we wanted to make sure would work for us and be a really sound investment moving forward.