With the housing trend going for smaller homes and minimalist designs, smaller bathrooms are also prevalent. Here are some creative and amazing, very small bathroom ideas and designs you can steal!
1. Efficient Minimalism Clean, elegant and efficient. This no-nonsense design is beautiful without excessive fuss and décor.
Its modern minimalist features include clean lines, neutral colors, and bare walls.
2. Glass Shower Walls, Dividers, and screens will cut off the line of vision and make a room look smaller. The glass shower wall divider is best for smaller bathrooms as it serves the purpose without limiting the view.
3.Compact and Clean This small bathroom is complete, efficient, and gorgeous. The well-planned design includes a glass-enclosed shower, toilet, sink, and enough room to move around. Its plain white walls, ample lighting, and dark floor contribute to the roomy feel.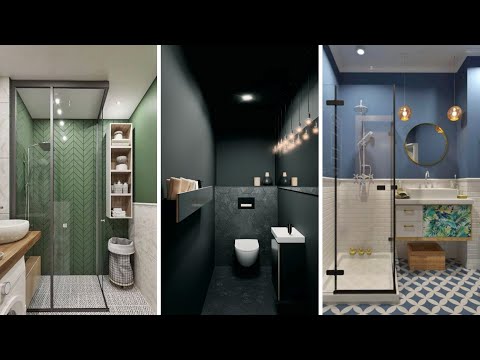 4. Green Envy Chic and delightful, modern and efficient. This well-appointed bathroom features patterned white walls and matching floors, a glass-enclosed shower, ample storage and lighting, and accent walls in a gorgeous basil green shade.
5. Vintage Black and White Chic, elegant and timeless. This classy black and white bathroom bring a lot of nostalgia with its vintage theme and ambiance. Black and white prints, claw-foot tub, and potted plants bring back an idyllic era of grace and style.
6. Halving the Wall Create an illusion of width by halving the wall and with creative tiling. This narrow bathroom boosts its steel blue tiles on the lower half and plain tan shade on the upper wall portion.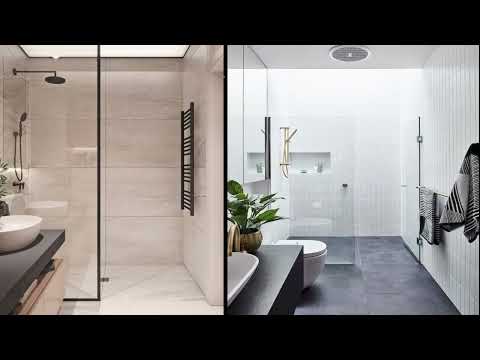 7. Stone and Wood Dramatic and elegant, stunningly beautiful. The spectacular interior design of this small bathroom will make you forget its size! Bring in the drama with stone walls, wood floor and accents, and the arresting wall feature – a back-lit recessed shelf with a bonsai plant
8. White and Bright This predominantly white bathroom uses every available floor space without craping the room. The complete bathroom includes a tub, a shower, a vanity sink and counter, a toilet, and more than enough room to move around.
9. Grey Slate Elegance The modern sophistication of grey slate and marble give this smallish bathroom a luxurious air despite its size. The marble floor and minimalist interiors match the unfussy and elegant grey slate walls.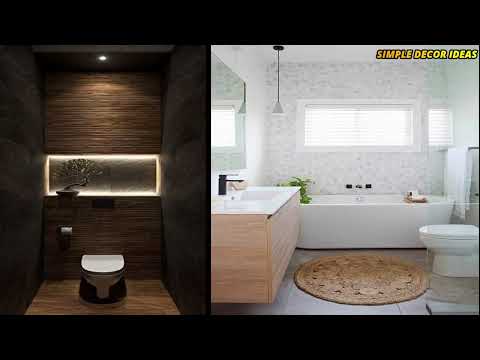 10. Outside View Adding a window to your bathroom will give a view of the outside. It will also open up the room and visually extend its walls. This smallish bathroom appears larger than it is, thanks to the strategic glass window placed over the sink.
11. Living Moss Wall Tiles This small bathroom gets a surprise element from its live moss wall tiles. The sleek white interiors get disrupted by the warm wood-themed floor tiles and the eye-catching bright green squares of wall plants.
12. Black Wonder The deep matte black of this small and narrow bathroom works, thanks to its creative and strategic lighting. Textured hexagon tiles provide character and accent to the room without disrupting its all-black theme.
13. Sunny Yellow Perky and bright, delightful, and fun! Reinvent your small, dreary bathroom into this sunny yellow, fun room! A fresh coat of amber or butterscotch will liven up your generic white bathroom.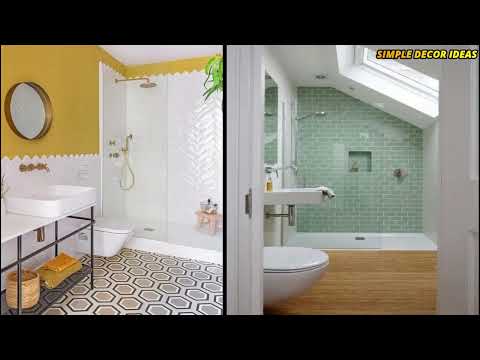 14. Skylights This small bathroom appears bigger because of the big skylight, the mirror across it, the white interiors, and its ample lighting. The fern subway tile accent wall draws in the eye, while the warm wood-themed flooring adds a touch of bucolic charm.
15. Stunning Lights Create the right ambiance and look for your bathroom by adding the right lighting implements. This small bathroom gets a dramatic vibe from the unique and stunning tubular ceiling light fixtures.
16. White Minimalist Clean, bright, efficient. This complete and efficient modern white bathroom doesn't need much space. The huge lightbox in the shower provides ample lighting, the glass separator keeps the room open, and the white interiors help make the room appear bigger than it is.
17. Modern Compact Efficiency at its best. This modern compact bathroom is big in style, small in size, and efficient in its space use. The glassed-in shower is located at the end of the room, next to an accented toilet area.
18. Floor Impact The walls and ceiling of this bathroom are minimal styling – subdued colors and minimal textures. The floor is a different story – bright colors and striking patterns
19. Rich Metallic Accents Your modern minimalist bathroom doesn't have to be boring and mediocre. This small and modern bathroom takes on the modern look with many aplomb coming from striking metallic accents.
20. Powder Blue Charm, This cool and charming shade of powder blue, works well with the most neutral tones popular in modern designs. It is light enough to keep the room from looking cramped and cool enough to counter the starkness of white.